This is the first year that a member of the COPP team will be attending INBOUND in Boston, and we can't wait! After hearing nothing but great things about INBOUND 2017 from our clients, we decided it was time to take the plunge.
For those who are unaware, INBOUND is a marketing and sales conference hosted by HubSpot, in Boston, Massachusetts. INBOUND promises to celebrate the human, helpful side of business. As a marketing agency, that is right up our alley. We always strive to be as helpful and collaborative as we can with our clients.
At COPP, we started using HubSpot earlier in 2018 when our friends at Wolseley Canada began working with the platform. Our team works with them to build newsletters, ads, automated processes, and more within HubSpot. It has been a great learning experience working on the platform together, and we're looking forward to learning more this September in Boston!
If you're heading to INBOUND, too, you're probably wondering what sessions you need to attend to avoid FOMO (fear of missing out)! So in this post, we'll highlight the 5 sessions we're looking forward to the most at INBOUND 2018.
1. Music Streaming Intelligence: The Key to Uniting Brands and Consumers
Wednesday, September 5 – 10:30 am – 11:15 am
Danielle Lee – VP, Global Head of Partner Solutions, Spotify
Want to learn how to build an experience for your customers that will integrate seamlessly into their lives? In this session, we'll learn about music streaming intelligence from Danielle Lee of Spotify. Danielle is the Global Head of Partner Solutions at Spotify, and will discuss how marketers can connect with the right audience through consumer insights and intelligence. We're looking forward to learning more about using audio to connect with customers at every point of their day.
2. Secrets to Search Dominance Revealed
Wednesday, September 5 – 4:15 pm – 5:00 pm
Maryna Hradovich – VP of Strategic Growth and Development, SEMrush
It can be difficult to keep up with the ever-changing Google algorithms, especially when it comes to search and search results. Setting yourself apart from the seemingly endless crowd of competitors is overwhelming. This session will dive into the relationship between user behaviour and search engine algorithms, as well as the ways that you can keep up with the constant algorithm updates.
3. Joanna Coles Spotlight
Thursday, September 6 – 10:30 am – 11:15 am
Joanna Coles – Chief Content Officer, Hearst Magazines
Who would miss a chance to hear Joanna Coles, CCO of Hearst Magazines speak? This spotlight session is sure to be a popular ticket!
4. SEO Curb Appeal: Optimizing the Branded SERP
Thursday, September 6 – 2:15 pm – 3:00 pm
Joy Brandon – Lead SEO Specialist, Nebo Agency
For a growing brand, the SERP (Search Engine Results Page) is a key part of a digital marketing strategy. Now that SERPs are becoming interactive and detailed, making a great first impression with a branded SERP is more important than ever. In this session, we'll learn about SEO curb appeal from Joy Brandon, Lead SEO Specialist at Nebo Agency. We are looking forward to hearing from her about data, social engagement, and local SEO!
5. INBOUND Rocks with 2 Dope Queens
Thursday, September 6 – 7:30 pm – 10:00 pm
Phoebe Robinson & Jessica Williams – 2 Dope Queens Podcast
What better way to celebrate INBOUND than with a hilarious podcast recording? We are really looking forward to attending a taping of 2 Dope Queens, the podcast from Phoebe Robinson and Jessica Williams. Who do you think the guests will be?
What do you think of our picks for the must-see sessions and events at INBOUND 2018? Did we miss anything? Let us know on social media. We hope to see you there!
SEO is the acronym for Search Engine Optimization. Search Engine Optimization involves picking the right words or keywords and using them on your website. When done right, it increases your chances of showing up in the search engine results for the terms that your customers are looking for. When we think of SEO, we usually think of Google, since they have over 60% of search engine share in Canada, but it is also worth considering Bing (who has about a 1/3 share).
What Search Engines Look For
Search engines are trying to refer to the best results. They are looking for websites and content that is most relevant to what the user is looking for. Relevancy is determined by:
Content: Content is key for SEO. It looks at the theme, the text, the titles and descriptions on the page; as well as how new it is.
Performance: Speed of your site and its performance matters.
Authority: Authority refers to the quantity and quality of content you have available, and whether other sites link to yours.
User Experience: How does the site work? Is it mobile-friendly? A page with a high bounce rate can sometimes indicate user experience problems.
Search engines keep an eye out for keyword stuffing (overuse of keywords on a page), repeated or plagiarized content, and purchased links. Over time, your website will get penalized for these items.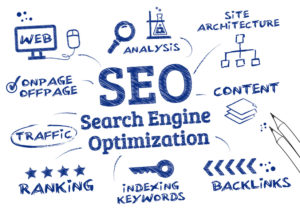 SEO Terms
Here are five SEO terms to keep in mind:
Keywords, keywords, keywords.
Placing appropriate keywords in your titles, content, URLs, and image names is important. Think about your keywords as search terms: what terms will you look for to get your topic? Be strategic, but also be reasonable: ridiculous numbers of keywords on your site will make your site be considered spam and hurt your results. We can help you assess which keywords to focus on.
Page Title and Description.
The page title and meta description are very important, as they are displayed to users in the search results.
Think of your title as a four to eight word ad that should entice the reader to click to learn more. Since search engines also consider these in their results, keep your keywords in mind when writing a new blog post or page.
While meta descriptions are mostly ignored by search engines, they should be unique and speak to that specific page. Users see these!
Image Alt Tags.
In order for a search engine to "read" an image, you need to provide an alternative text description. Search engines will bring these images up in image searches and they will help your page rank for those keywords in a traditional search. This description is also used by screen readers, so it is especially relevant for accessibility!
Headline 1 (H1).
Each page of a site has a main headline, referred to as an H1. The H1 title contains terms that show up in search results. A best practice is to use your H1 to reinforce keywords. For a local hairdresser, we might write "Voted best hairdresser in Waterloo three years in a row" as heading 1 on their main page to reinforce "hairdresser" and "waterloo".
Domain Names.
Domain names are very important for ranking your pages in a search. We recommend sub-directory root domains (example.com/blogs) over sub-domains (blog.example.com) to make it easier for tracking and for consistency. Consistency (www.example.com and example.com should redirect to the same place) also helps in link building. Having keywords that you're tracking in your domain names will only help your overall efforts.
The most important thing to remember with SEO is that you are trying to help people searching for relevant terms find your website. Trying to trick the system will get you in trouble. SEO done correctly can boost your website's traffic and visibility, and lead to more customers, especially when it is paired with quality content. Chat with us to learn more!
Many thanks to the Volunteer Action Centre for recognition of our participation in Giving Tuesday Waterloo Region. Thanks also to KW Counselling Services for giving us the opportunity to help launch this community program.
KITCHENER — The first region-wide Giving Tuesday raised more than $200,000 in donations and 25,000 pounds of food for local charities.
This marked the first year of Giving Tuesday Waterloo Region, the local branch of the national Giving Tuesday organization.
Chair of Giving Tuesday Waterloo Region, Scott Williams, was inspired by other communities to bring the project to Waterloo.
"I was looking at Guelph who had done one last year and they raised over 1.2 million," Williams said. "I was inspired by that and thought Waterloo could be doing that as well."
Williams knew that creating awareness of Giving Tuesday would be his greatest challenge. To spread the message, he enlisted former Waterloo mayor Brenda Halloran and Waterloo Regional Police Chief Bryan Larkin as ambassadors.
"They were instrumental in spreading the message," Williams said.
Social media and digital communications allowed for the project to reach a larger audience, with Giving Tuesday Waterloo Region's tweet being retweeted over 71,000 times.
"Our corporate partner, COPP communications, donated the website and all of our social media graphics, which allowed us to spread the message even further," said Williams. "We couldn't have done it without them."
Williams was very enthusiastic about the project's success, but is hoping to "do even more for the community," next year.
Giving Tuesday is an annual charitable event that takes place on the first Tuesday following Black Friday and Cyber Monday. It began in New York three years ago as a way of marking the beginning of the giving season and quickly turned into a global movement, with cities in over 68 countries participating. To learn more about Giving Tuesday Waterloo Region, visit http://givingtuesdaywr.ca/.
Icynene announces even shorter re-entry and re-occupancy allowances for two of its products, Icynene Classic Max and Icynene ProSeal spray foam, now permitting one hour re-entry for trades, and two hour re-occupancy for homeowners.
The revised re-entry and re-occupancy allowances follow months of extensive research, testing and third-party evaluation of the two ultra-low VOC spray foam products based on protocols and procedures developed by a task group of the American Chemistry Council – Center for the Polyurethanes Industry (ACC-CPI).
Shorter re-entry times allow builders in residential and commercial projects to continue construction with minimal impact on their schedules, while shorter re-occupancy times offer homeowners the opportunity to return to their homes the same day, within hours, of their spray foam installation," said Icynene VP Marketing, Betsy Cosper.
Gerber Technology's newest state-of-the-art plotting solution, the high-speed GERBER Plotter MP, offers 300 dpi resolution and 40 dB operating noise. Sales of this ultra-reliable line have exceeded high expectations. "We've only been selling this series for eight months, and the high order and reorder rates are remarkable," says Lenny Marano, director of product marketing.
Greeted by roars of approval at its sales conference debut in May 2015, the Virtek Sales App is a highly efficient sales presentation tool. It's already in the field boosting sales for Virtek across all segments. The app is used globally to sell and market their full line of laser products and turnkey solutions. Created, designed and programmed entirely in-house by the Copp digital marketing team.
RENOMii—a standout among successful startups in Waterloo's "Quantum Valley"—is poised to disrupt and solve communication problems in renovation markets. Designed as an easy-to-use app for renovators and homeowners, Renomii takes all the guesswork out of jobsite management, upgrades and on-the-job change orders. The app is endorsed by Damon Bennett, and RENOMii is currently partnering and field-testing with Home Hardware. Renomii has created a real media stir, including stories in The Globe and Mail and the Toronto Star. View the website and trial a Renomii demo here: www.renomii.com
Congratulations to our client Illumiti, recipient of a SAP® North America Partner Excellence Award 2015 in the category "Marketing Best Practices."
"We're very pleased to be recognized for marketing excellence again this year. Our team is dedicated to using the latest marketing techniques to not only grow our business but also drive customer engagement and satisfaction. We've made great strides in our marketing processes and practices and look forward to continuing to build on this momentum in 2015," said Illumiti Chief Operating Officer Dror Orbach.
Awards were presented by SAP (NYSE: SAP) to the top-performing SAP partners in the North America region for their efforts – in partnership with SAP – in helping customers adopt innovation easily, gain results rapidly, grow sustainably and run more simply with SAP solutions.
Selected from SAP's wide-ranging North America partner base, nominations for the SAP Partner Excellence Awards were based on internal SAP sales data. A steering committee composed of regional and global SAP representatives determined winning partners in each category according to numerous criteria such as sales achievement and performance.
"With our outstanding ecosystem of partners, SAP is helping customers run bolder, faster and simpler," said John Graham, head, Global Partner Operations, SAP North America. "Partners extend our ability to bring SAP innovations to more customers and add their proven solutions to serve our customers. We congratulate Illumiti as one of our top-performing partners of the year in North America. Together, we are helping customers transform their business and deliver the innovation that fuels revenue and growth."
Illumiti has subsequently been honoured as  SAP's Canada Channel Partner of the Year and with the "Breakout Partner of the Year" Award From Sungard Availability Services.